[Sector 1]
Tower of Zeno
Citadel
Arched niches church
Barracks
City gates
Crypts
Southeastern line of defense

[Sector 2]
The Church of Saint Volodymyr
Ancient square
Main street
House of the 4th - 3rd cc. BC
Eastern basilica
Cave church
Uvarov basilica
Baptistery
Sixbased church
Northern basilica
Bell
Hostel
Hospice
Residential block and chapel
Kruze basilica
Artillery battery
Church in block 7

[Sector 3]
Theater
City cistern complex
Fourapsed church
Western line of defense
Mint
Reliquary church
Fiveapsed church

[Sector 4]
House with winepress
Fishsalting cisterns
1935 basilica
1932 basilica
Basilica in the basilica
Arched church
Basilica on the hill
Western basilica
Defensive moat and gate
Residential blocks
Necropolis of the first cc. AD


The Church of Saint Volodymyr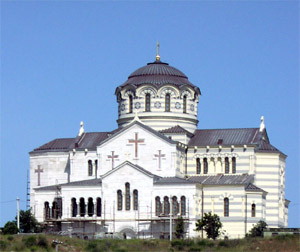 The Church of St. Volodymyr was built on the site of a medieval cruciform church in the mid-19th century. The church is devoted to Kyivan Prince Volodymyr, who, according to the Rus Chronicle, was baptized in Chersonesos (Korsun'). Academician F. I. Chagin and architect D. I. Grimm, architects of the church, designed this two-story building with one chapel on each floor. The chapel of the Nativity of the Mother of God of Korsun' is located on the ground floor; St. Volodymyr chapel is on the first floor.
The remains of the cruciform church where the prince of Rus' was initially supposed to have been baptized are preserved on the ground floor of the modern church. The Church of St. Volodymyr was destroyed in the war years of 1941-1945 and now is under the restoration.
A survey of the history of the monastery of St. Volodymyr located at Chersonesos in the 19th and early 20th century has been published by I. A. Antonova in Bogi Tavridy. Istoriya religiy narodov Kryma (Gods of Taurida. A History of Religions of the Peoples of Crimea), 138-158 (Sevastopol, 1997). You can read a fragment of this survey dealing with the building of the church in Chersonesos on this page. The information of the life of the church today and its reconstruction is on the page entitled This day.