[Sector 1]
Tower of Zeno
Citadel
Arched niches church
Barracks
City gates
Crypts
Southeastern line of defense

[Sector 2]
The Church of Saint Volodymyr
Ancient square
Main street
House of the 4th - 3rd cc. BC
Eastern basilica
Cave church
Uvarov basilica
Baptistery
Sixbased church
Northern basilica
Bell
Hostel
Hospice
Residential block and chapel
Kruze basilica
Artillery battery
Church in block 7

[Sector 3]
Theater
City cistern complex
Fourapsed church
Western line of defense
Mint
Reliquary church
Fiveapsed church

[Sector 4]
House with winepress
Fishsalting cisterns
1935 basilica
1932 basilica
Basilica in the basilica
Arched church
Basilica on the hill
Western basilica
Defensive moat and gate
Residential blocks
Necropolis of the first cc. AD


Tower of Zeno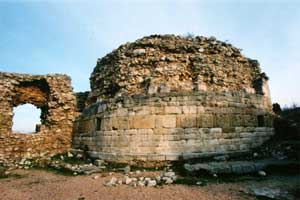 | | | |
| --- | --- | --- |
| Inscription in Honor of the Emperor Zeno | | This is the most important tower of the southeastern zone of defense, erected on the southern flank of the port section. It is called the Tower of Zeno after references in an inscription found in the tower detailing the reconstruction of the city walls during the reign of the emperor Zeno in the 5th century. |
The earliest core of this tower measures about 8 meters in diameter. It was constructed in the 2nd century BC during a time when Chersonesos waged a series of wars on the Scythians. The builders of the tower used funeral monuments - stelai - from the city necropolis in the masonry. Polychrome paintings from the 4th and 3rd centuries BC decorate some of these funeral markers. . Two centuries later, this heavily damaged tower was strengthened with an additional ring of masonry. A second ring was built in the 5th and 6th centuries, possibly during the reign of the emperor Zeno. The lower rows of the masonry facade dating to this period have been preserved, as is visible in the peribolos at the 19th curtain.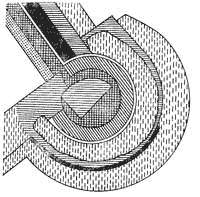 Schematic plan of Tower of Zeno.
Building periods from the 2nd century BC to the 10th century AD are indicated by different hatching.



In the 9th and 10th centuries the tower was rebuilt once more and its diameter increased to 23 meters. A guardhouse was constructed inside the tower. From the tower one can reach a platform above the gates to the peribolos.


Tower of Zeno. Reconstructions.